Snout scavenged website
Images from today's event will be posted in the next few days, meanwhile the 'scavenged' web interface is now public at:
http://snoutlondon.ning.com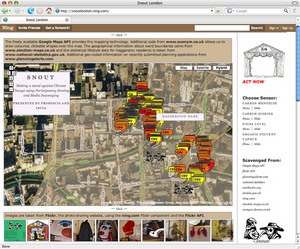 The site shows the sensors readings collected during the performance today together with a variety of other public data and services designed to make connections and give context to pollution in our environments. The site has been developed by Karen Martin and is built using ning.com – a free online service providing templates for building social networking sites with little or no programming ability. Woven into the ning site are mapping technologies from Google, photofeeds from Flickr, RSS feeds, ward level statistics (Census 2001) from National Statistics and links to other services such as writetothem.com, upmystreet conversations and local organic food delivery.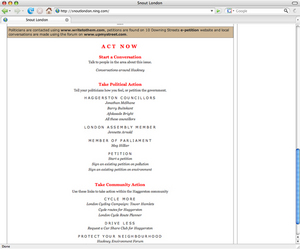 Update Kevin Harris of Local Level has blogged his impressions of the performance and forum, speculating on the role of this kind of public intervention in defusing community tension.
Chris Hand has also blogged the event and posted his photos on Flickr.
Andrew Curry has also blogged the event on his site looking at futures and emerging trends.

Posted by Giles Lane at
11:04 PM