Robotic Feral Public Authoring in London Fields
The first live trial of the Proboscis/Birkbeck Feral Robot took place in London Fields today: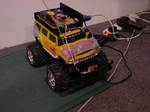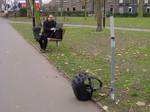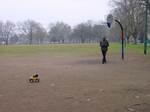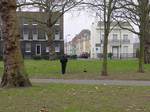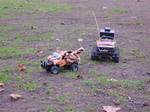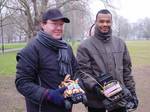 A group from Proboscis (Giles Lane, Sarah Thelwall, Orlagh Woods and Camilla Brueton) and Birkbeck College Computer Science dept (George Roussos and Dima Diall) braved the freezing weather to test the robot out in the field. We adapted a Locustworld meshbox to act as a battery powered mobile mesh node with SPACE Media's wifi network broadcasting into the southern part of London Fields. A 9dB antenna gave us a powerful signal extending the wifi mesh right across the park which the robot connected to, sending back around 1700 data packets to the Urban Tapestries server over the space of about an hour. The robot took sensor readings (air quality and carbon dioxide) approximately every two seconds, together with a GPS location fix to enable the reading to be correlated with a map and with other forms of local knowledge posted on the UT platform. Alongside our own feral robot, we gave a robot designed by Natalie Jeremijenko for the Ark Centre in Dublin last summer a test run in the fields, its sensor attuned to 'solvent vapours'. However, as it isn't able to store or transmit its readings we were not able to determine what, if anything, it encountered.
The data captured from the public authoring robot will be analysed and an online visualisation of the test results posted next week (along with some video footage). We hope to have a more extensible interface for overlaying and interrogating sensor readings and local knowledge in March. Thanks to Richard Lander at Locustworld for timely assistance with the meshing protocols, Peter Chuancy at SPACE and George Papamarkos manning the UT system back at Birkbeck.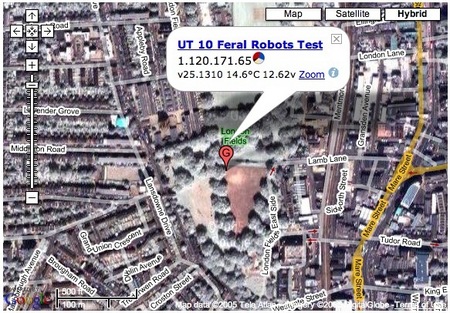 A Locustworld Mesh Map
Update: blogged by Guy Kewney's Mobile Campaign, "Glue-sniffing robot meets wireless mesh robot in London Park - romance?"
Posted by Giles Lane at February 3, 2006 10:24 PM