Community Mapping Workshop: St Marks Housing Co-op (4/2/2006)
Proboscis is working with St Marks Short Life Housing Co-op as part of Social Tapestries to explore how a transient housing community (transient in terms of membership and property) shares and captures knowledge. St Marks is a small housing co-op with a current membership of 17. It has properties primarily in West London and works with a number of Housing Associations across several London Boroughs to provide housing for its members.
Proboscis organised a mapping session at the Venture Community Centre as an opportunity for members of St Marks to come together and collectively share their individual histories and explore the collective history of the co-op. Former members of St Marks were also invited to participate in this event but unfortunately none were able to attend. This workshop was the second we have run with the co-op – a previous one in June 2005 explored the local connections that co-op members have made to the area it is based in and how the kinds of knowledge they have could be shared online.
The members were presented with a series of maps covering the areas of London where (as researched so far) the co-op has had properties over the last 25 years. Current and former properties were mapped back on to this map, annotated with memories associated with living in these locations and interacting with other co-op members.
Many stories added to the maps related closely to how members have collaborated in the past to cope with the difficulties presented by living in short life housing. Assistance with moving, cleaning and repairing properties to make them fit for habitation highlighted the positive co-operative actions of members and were recounted in several different stories. The natural sense of community when living close by to other St Marks members also came out as a positive and made co-operative values and behaviour more natural on a day to day level.
Discussion touched on key issues concerning how the co-op operates, its structure and key issues it faces. The importance of group decision making was highlighted, and whilst sometimes time consuming is key to the democratic principles of the co-op. Each member has an equal vote and voice on all issues.
Managing short life property, St Marks is often faced with properties on the edge of acceptable living standards either through state of repair, location or security. Security is currently an important issue for St Marks and the co-op has begun to work with an outside agency (the police) to try and come to a solution.
Technology such as email is changing how the co-op communicates and making it easier where members do not live within close proximity (an older member recounted how when she first joined minutes from meetings were hand delivered). However, email has it's own problems and cannot replace the discussions and democratic decision making process referred to above. Initially Proboscis has been using Google Earth as an introduction to the concept of public authoring for St Marks which was enthusiatically taken up by co-op members as a possible way of capturing and sharing St Marks' history. The next stage will be to offer co-op members the opportunity of using the Urban Tapestries platform.
For Proboscis the exercise was an opportunity to work with and experience St Marks as a group, to complement and build on information gathered through eBooks and individual interviews. This will contribute to a knowledge sharing of the history of St Marks Housing Co-op between Proboscis and St Marks, working towards a way of enabling the Co-op to gather and retain knowledge in the future to compensate for the transient nature of the organisation's membership.
Posted by Camilla at
06:08 PM
Update: Robotic Feral Public Authoring
Robotic Feral Public Authoring
A short film (1 minute Quicktime MP4) of the field trial in London Fields last Friday.
Initial Visualisations of the sensor readings/map: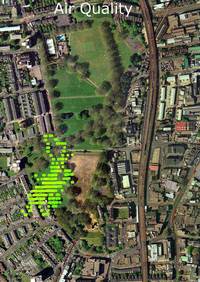 +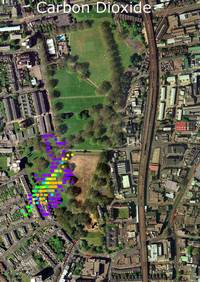 Documentation from last November's Community Mapping Workshop in London Fields.
Posted by Giles Lane at
03:18 PM
Robotic Feral Public Authoring in London Fields
The first live trial of the Proboscis/Birkbeck Feral Robot took place in London Fields today: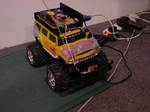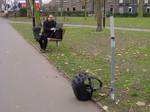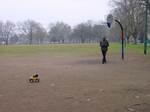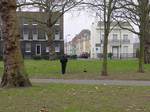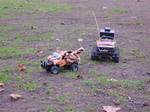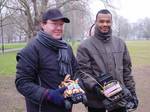 A group from Proboscis (Giles Lane, Sarah Thelwall, Orlagh Woods and Camilla Brueton) and Birkbeck College Computer Science dept (George Roussos and Dima Diall) braved the freezing weather to test the robot out in the field. We adapted a Locustworld meshbox to act as a battery powered mobile mesh node with SPACE Media's wifi network broadcasting into the southern part of London Fields. A 9dB antenna gave us a powerful signal extending the wifi mesh right across the park which the robot connected to, sending back around 1700 data packets to the Urban Tapestries server over the space of about an hour. The robot took sensor readings (air quality and carbon dioxide) approximately every two seconds, together with a GPS location fix to enable the reading to be correlated with a map and with other forms of local knowledge posted on the UT platform. Alongside our own feral robot, we gave a robot designed by Natalie Jeremijenko for the Ark Centre in Dublin last summer a test run in the fields, its sensor attuned to 'solvent vapours'. However, as it isn't able to store or transmit its readings we were not able to determine what, if anything, it encountered.
The data captured from the public authoring robot will be analysed and an online visualisation of the test results posted next week (along with some video footage). We hope to have a more extensible interface for overlaying and interrogating sensor readings and local knowledge in March. Thanks to Richard Lander at Locustworld for timely assistance with the meshing protocols, Peter Chuancy at SPACE and George Papamarkos manning the UT system back at Birkbeck.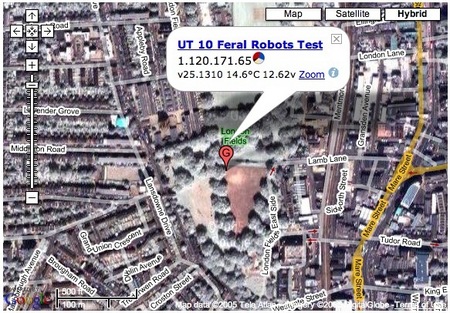 A Locustworld Mesh Map
Update: blogged by Guy Kewney's Mobile Campaign, "Glue-sniffing robot meets wireless mesh robot in London Park - romance?"
Posted by Giles Lane at
10:24 PM