Human Echoes
Camilla's Brueton's commission for the Human Echoes event back in July is now complete and the digital element is available as two podcast files. The work is called The Human Echoes Archive and is a box of fictional and factual materials (drawings, maps, postcards, index cards, audio cd) that mimics the form, materials, structure and tools of archiving to reflect and extend the interconnected conversations of the event.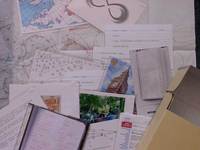 The Archive adopts a numerical ordering system to collect material relating to the people who were present, issues emerging and questions raised at the Dialogue. Like the informal pockets of conversation which took place at this picnic one can navigate freely between the material in the Archive rummaging, cross referencing and re-ordering or by using the the subject index and footnote references.
The podcast files are an edited version of the article contained in the archive with images of other material from it and, a layered audio piece of fragments of the conversations.
Posted by Giles Lane at October 11, 2006 10:45 AM