Everyday Archaeology Report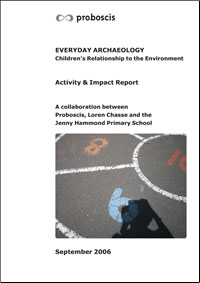 We've just published the Activity and Impact Report on our week long workshop with Year 4 at the Jenny Hammond Primary School back in July. Over the next school year we will be working with staff at the school to embed some of our tools and techniques into their everyday teaching and learning methods. We'll post more details here in the coming months.
A bound version is available to buy from the Proboscis Store for £5.00 plus postage and packing.
Update: The project is also featured as a case study on the London Schools Arts Service website.
Posted by Giles Lane at October 5, 2006 06:08 PM