Human Echoes at Interdependence Day
Yesterday Proboscis organised an open dialogue on Cultures of Listening for Interdependence Day at the Royal Geographic Society. The dialogue took the form of a series of conversations between an invited group of artists, social scientists, teachers, researchers, curators and policymakers at a picnic in Kensington Gardens, just across from the RGS.
Our aim was to use the informal setting of a picnic and our role as hosts to bring together a diverse group and stimulate conversations, rather than hold a more formal debate or discussion. This placed the emphasis of the dialogue on being a culture of listening rather being about one. After an hour and a half of introducing people to each other and connecting conversations, the group came together to reflect on what we had heard and said, followed by more conversation and connections over lunch.
Proboscis has commissioned artist Camilla Brueton to create an artwork inspired by the event, a distributable form of which will be made available in the next few weeks.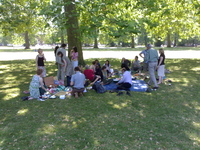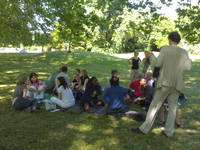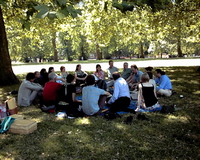 Posted by Giles Lane at July 2, 2006 11:38 AM