Urban Tapestries Report (revised edition)
A revised edition of the Urban Tapestries report (containing all three original reports from June 2005) is now available to download here (PDF 2Mb). The new edition of the report combines an overview of the project aims, practices, outcomes and policy proposals, a chronological account of its progress and an analysis of the feedback from participants in the bodystorming experiences and trials.
A bound version is available to buy from the Proboscis Store for £5.00 plus postage and packing.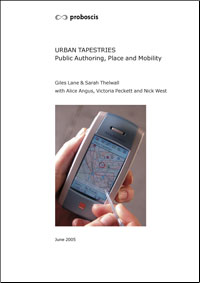 Posted by Giles Lane at October 23, 2006 12:33 PM