Havelock Open Day (24/11/2005)
An important milestone in developing the Community Collaboration projects for Social Tapestries was passed today when we participated in an open day organised by the Havelock Independent Residents Organisation (HIRO) for the local residents of the Havelock Estate in Southall, Ealing. Earlier this summer Proboscis and Kevin Harris of Local Level were invited by HIRO to come and discuss our ideas for knowledge mapping and sharing and how this could help them in their project (funded by the ODPM) to create a tenant management organisation and take over the management of their estate from Ealing Homes (HIRO are being assisted in the process by community development worker Bev Carter at Partners in Change). Since then we have been developing tools and practices that are appropriate to the site and situation.
Over 40 local residents (including many children) turned up at the HIRO office today to find out more about what's happening to their community and to share their problems, hopes, stories and knowledge about the estate and the environment. Our partners at Getmapping.com had kindly made a very high resolution aerial photograph of the area available to us which we printed as a 5 foot square table-top map. Throughout the afternoon people annotated the map and took away special DIFFUSION eNotebooks to record their feelings about aspects of the estate and to start to collect comments and stories about specific places.
Over the next six months or so we hope to run a series of participatory events with the local residents to build a up a (publicly authored) knowledge base of evidence about everyday life in the area. We aim to learn more about their technological needs and capabilities so that we can design tools and techniques for them to capture and and re-present their knowledge and experience via platforms like Urban Tapestries. Ultimately we hope to learn from these collaborations to create platforms that truly enable and empower people to map and share their knowledge of their community and environment in ways that help them improve the opportunities open to them.
Update
Kevin has blogged a piece about the event which captures just how much we learnt from listening to the residents and, how important and sensitive the role of the listener is.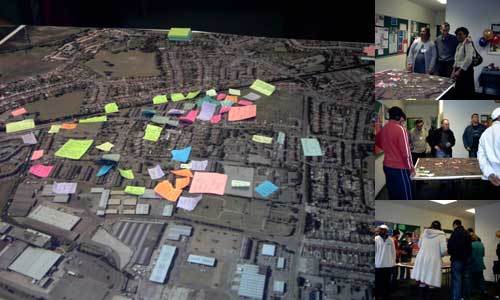 Posted by Giles Lane at November 24, 2005 09:57 PM