Render at University of Waterloo
We've just returned from a week spent with Andrew Hunter – director of Render at the University of Waterloo, in Ontario, Canada. Andrew invited us to explore and devise a collaborative commissioned project with Render for 2007/08 inspired by our work on Social Tapestries. The other purpose of the visit was to participate in Render's Winter Lecture Series and to give a series of talks to students in the Fine Art, Curatorial Studies and Architecture programmes.
During the week our discussions evolved from creating a single piece of work into establishing a more fluid and long term partnership with Render to share ideas, practices and co-develop outcomes that bring our interests in space, place and context together. We aim to begin the first phase of the project in the Autumn with a collaboration between Proboscis, Render and students in the School of Architecture at the University.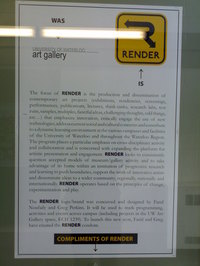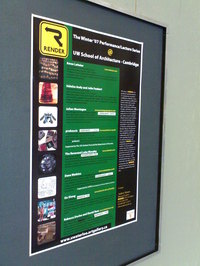 Posted by Giles Lane at February 5, 2007 12:13 PM